To Pho or not to Pho...
As always with rainy weather, I always have the craving for pho. And, for the past week, it has been raining cats and dogs A LOT in the Bay Area.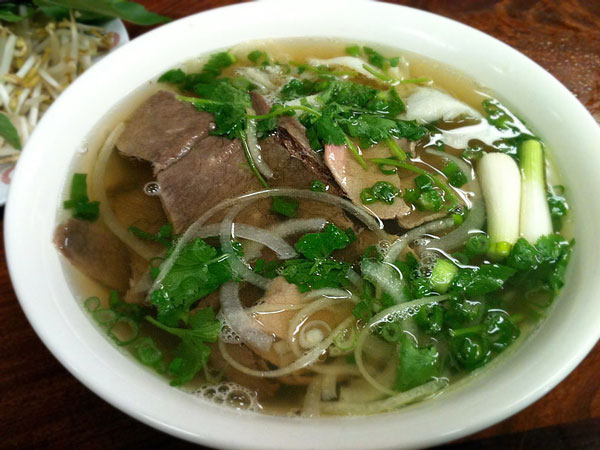 Pic courtesy of lovingpho.com
If you have never had pho, it is a Vietnamese noodle soup, that is usually served with beef. Sometimes, with chicken. The best pho, in my opinion, is the ones served with beef, especially the thin lean brisket. A bowl of pho includes noodles made from rice and served with basil, bean sprouts and jalapenos in beef broth. The last three ingredients are usually added to the soup by the person eating it, you or me... :D You can also add some hot sauce and oyster sauce.
Pic courtesy of Google Images
Tom and I, usually go to downtown Mountain View on Castro Street to get some pho. We usually go about once or twice a month for some pho. Whether it rains or not, the hubby and I can always enjoy a warm bowl of pho. (Like, when we are not feeling well) We usually eat at Pho Garden, which is home to the Pho Challenge. I've never done the challenge but have been privy enough to see some people who are up to it, try it and some have succeeded and while some failed. To the right is a picture taken from Google Images, when searching for Pho Garden Mountain View, which shows the size of the bowl for the Pho Challenge next to a regular large bowl of pho. If next time, you are in downtown Mountain View, check this place if you want to give the challenge a try or just wanting to try out a new pho place. This is their website: Pho Garden
Pic courtesy of Google Images
Their address is 246 Castro Street, Mountain View, CA 94041. They also have another venue in the city. There are other pho places around that we have tried as well but this one is just convenient since we've moved to Mountain View. It is ideally much closer and if we don't feel like pho, there is an abundance of other cuisines to eat at.
I may have mentioned it before but have just recently moved to the Bay Area from SoCal. We used to live in Camarillo and used to frequent Pho Saigon in Port Hueneme. They have the nest pho noodle soup that I have ever had. But, that is neither here or there.